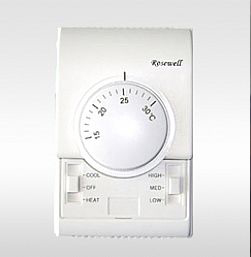 Xinjiang Chau Heating Equipment Co., Ltd.
Phone: 8609962285385
Mobile phone: 18609967477
QQ: 534502889 or 273574653
Fax: 8609962285385
Address: Korla City Economic and Technological Development Zone
Postal Code: 841000
Homepage: http://www.xjyzcn.com/
E-mail: kelwg@163.com
Used in commercial and civil buildings, for heating, air conditioning of central air conditioning terminal coil machine, water control valve, the logic circuit on the measurement of the temperature and set temperature, when the temperature compare relative difference is greater than 1 ℃, since the launch of fan or electric valve, when the environment temperature to set temperature, automatic closing fan or electric valve.
Toggle switch respectively is: operation mode switch (heating HEAT - air conditioning (COOL), FAN speed switch (low speed 1 - medium speed 2 - high speed 3).
Product features
Stem on automatic constant temperature control.
16 switch cold and hot conversion, and the outer flame retardant ABS material.
The embedded installation, standard type 86 installation cassette, convenient installation.
16, the service life of the thermostat contact in 220 v, full load, the number of more than 100000 times, manual operation switch more than 6000 times.
Product function
Fan coil three gears wind speed, second line electric valve, three line electric valve, solenoid valve, or switch type wind valve, auxiliary electric heating equipment, three file wind valve.