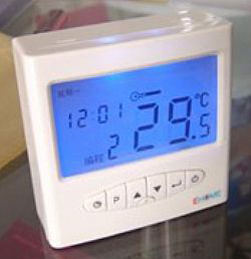 Xinjiang Chau Heating Equipment Co., Ltd.
Phone: 8609962285385
Mobile phone: 18609967477
QQ: 534502889 or 273574653
Fax: 8609962285385
Address: Korla City Economic and Technological Development Zone
Postal Code: 841000
Homepage: http://www.xjyzcn.com/
E-mail: kelwg@163.com
Installed on the electric warming, hanging furnace heating control room temperature system. Intelligent control, energy saving change, the environment is comfortable and change.
1, large LCD screen display
2, blue LED backlight
3, comfortable touch key
4, 2 AA batteries
5, low power design
6, prevent freezing frost protection function
7, can choose adjustment of constant temperature range
8, 5-1-1 days a week 6 time programming, the default ten clock program (0 ~ 9), the user can modify
9, manual and automatic mode