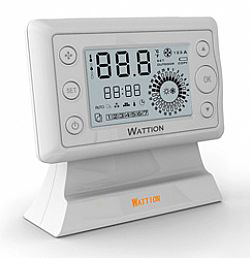 Xinjiang Chau Heating Equipment Co., Ltd.
Phone: 8609962285385
Mobile phone: 18609967477
QQ: 534502889 or 273574653
Fax: 8609962285385
Address: Korla City Economic and Technological Development Zone
Postal Code: 841000
Homepage: http://www.xjyzcn.com/
E-mail: kelwg@163.com
WH601RF is a section has 7 days programming without linear temperature controller, can according to its internal procedures or customers custom program control boiler or heating the operation of the system. The device of the receiver directly with hanging furnace or the central heating system of thermal actuators connection, transmitter using special radio signals and receiver communication with penetration ability, communication stability, without interference, low electric etc. By the battery power supply emitter can be as for no signal blind Angle of any position, is our life become comfortable and simple.
The product has the following features:
1, easy to operate, a function button, three key;
2, the whole week program setting;
3, take two kind of permanent memory program selection, production process and customer custom program;
4, large screen LCD display;
5, adjustable comfortable temperature, economic temperature, antifreeze temperature;
6, can be applied to wall hanging furnace, condensing furnace, household metering heating system control and energy saving;
7, only two 5 batteries;
8, Celsius or Fahrenheit temperature display;
9, fast and simple installation;
10, can show temperature correction;
11, advanced wireless transmission technology, indoor wall distance 30 meters